Characters
About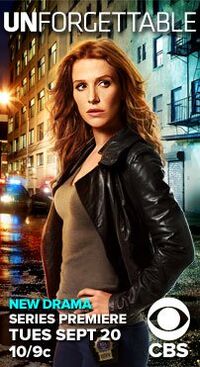 Unforgettable stars Poppy Montgomery as Carrie Wells, an enigmatic former police detective with a rare condition that makes her memory so flawless that every place, every conversation, every moment of joy and every heartbreak is forever embedded in her mind. It's not just that she doesn't forget anything - she can't; except for one thing: the details that would help solve her sister's long-ago murder. Carrie has tried to put her past behind her, but she's unexpectedly reunited with her ex-boyfriend and partner, NYPD Detective Al Burns (Dylan Walsh), when she consults on a homicide case. His squad includes Det. Mike Costello (Michael Gaston), Al's right-hand man; Detective Roe Saunders (Kevin Rankin), the junior member of the team; and Detective Nina Inara (Daya Vaidya), a sassy, street-smart cop. Being back on the job after a break feels surprisingly right for Carrie. Despite her conflicted feelings for Al, she decides to permanently join his unit as a detective solving homicides - most notably, the unsolved murder of her sister. All she needs to do is remember
Featured Video
Featured Poll
Are you looking forward to this show?
Blogs
Create blog post
In order to help prepare this Wiki for the upcoming season premiere of Unforgettable, the Wikia Content Team has decided to give this wiki a new makeover. We also have decided to implement blogs in o…

Read more >
See more >
Featured Photos
Community content is available under
CC-BY-SA
unless otherwise noted.