The episode starts off with 2 youths skateboarding through an abandoned mental hospital, past a mentally sick man. When one of the youths falls off his skateboard and onto a pool of blood, the body of a male ghost hunter is found with his throat slit.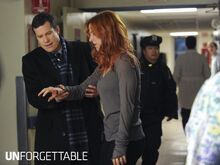 After reading through the victims client list they come across a man who had called him in after his wife reported hearing voices in the basement.
When Carrie goes to investigate the house she is knocked unconscious and tied up. The client's wife helps her up, claiming he locks her in the basement and alleges he murdered a 15 year old girl. When the house is set on fire, the two manage to escape. Carrie runs back into the house to rescue the man who is unconscious in the burning house.
At the hospital, when Carrie combs through her memory, she realises that it was in fact the man's wife who killed the teenager and the ghost hunter, knocked her unconscious, set fire to the house and locked them both in the basement.
She just has to prove it and get to the man before his wife does.....